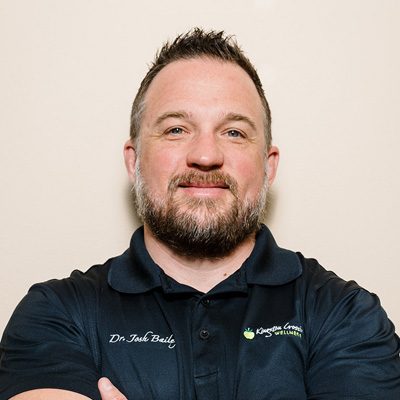 Chiropractor
Josh Bailey D.C.
(Dr. Joshua Bailey has been one of the premier Structural Chiropractors in the Northwest since 2004 addressing not only the spine, but also extremities and incorporating the latest exercises and Structural Rehabilitation with his patients.)
In 2010, Dr. Bailey left the great Northwest to move South to Peru, to look for adventure in the surfing and amazing culture that South America has to offer. Not long after moving to Peru, he met his amazing wife, who was the inspiration for him becoming fluent in Spanish.
While in Peru, he started an international chiropractic exchange program that hosted Chiropractors from all over the world from New Zealand to New York helping thousands of children and adults get chiropractic treatment where otherwise there was none.
Additionally, Dr. Bailey opened up the first official CrossFit gym in the provinces of Peru to combine the benefits of exercise, Structural Chiropractic Care, rehabilitation and the amazing community that CrossFit provides under one roof. In 2012, Dr. Bailey was selected as the official chiropractor for the CrossFit Regionals in Guayaquil, Ecuador.
Dr. Bailey focuses on finding the right treatment for his patients at the right time. A mantra that means combining Structural Chiropractic care with exercise, massage, and rehabilitation in order to get his patients the results they deserve. Dr. Bailey frequently works with other professionals in the Seattle area to get patients the care they need including physical therapists, orthopedic surgeons, naturopathic doctors, and acupuncturists.
Having taken hundreds of hours of continuing education courses in the most effective treatment methods and helped thousands of patients regain their health through natural, effective Structural Chiropractic Care, we are sure that you will be impressed with Dr. Bailey and his experience.
When out of the office Dr. Bailey enjoys spending time with his three young boys, amazing wife, and training Brazilian Jiu-Jitsu. Advanced Registered Nurse Practitioner
Robin Benn A.R.N.P.
Robin has been an RN since 1980. She obtained her MSN AND Nurse Practitioner Certificate from the University of California, San Francisco in 1994. After many years as a hospital Nurse Practitioner, she decided to pursue further training in the area of Wellness Care.
She has practiced in the area of Wellness and Regenerative Medicine for the past 7 years, recently returning to Foundation Chiropractic. Her hobbies include spending time with her husband, Bruce, and her "gaggle" of animals on their 5-acre ranch in Eglon. She enjoys horseback riding, reading, traveling, cooking, and the great outdoors here in the Northwest. Robin is passionate about her work in Regenerative Medicine and one of her greatest joys is seeing her patients go from sedentary and in pain, to enjoying an active and quality lifestyle. She invites you to come and meet with her at Foundation Chiropractic.
OFFICE HOURS
---
Monday
8:00am - 3:00pm

---
Tuesday
9:30am - 12:00pm
2:00pm - 6:00pm
---
Wednesday
8:00am - 3:00pm
---
Thursday
9:30am - 12:00pm
2:00pm - 6:00pm
---
Friday
8:00am - 3:00pm
---
Saturday & Sunday
Closed